Not our time: No casino for Howe Caverns
| | |
| --- | --- |
| 12/22/2014 | By Patsy Nicosia |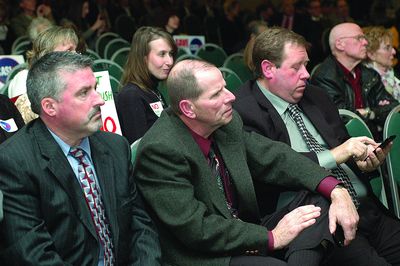 In the end, it wasn't our time after all.
Despite efforts that included newspaper and TV advertising, a Fill the Hill event, and bussing hundreds of supporters to hearings in Albany, the Howe Caverns Resort Casino lost out to Rivers Casino in Schenectady for the Capital Region's casino license Wednesday.
"On paper, we won," said Assemblyman Pete Lopez after the New York State Gaming Facility and Location Board's crushing announcement at the Empire State Plaza.
"Who knows what went on behind the scenes."
The day had begun on a more optimistic, if anxious, note.
"It would be a heck of a Christmas present to bring back to Schoharie County," said Cobleskill Stone's Mike Moore as he waited in line for at the Empire State Plaza for the 2pm meeting.
"I'm so nervous I'm shaking," said Chris Tague, Cobleskill Stone's general manager and a spokesman for Howe Caverns.
Shane Strong, another Cobleskill Stone employee, said everyone he ran into in Cobleskill that morning before he left wished him luck; Howe Caverns' Bill Gallop promised kart-wheels if the project was chosen.
But in the end, it was over almost before they had time to react.
Rivers Casino supporters cheered their win, opponents of a project proposed in East Greenbush celebrated their loss, and Howe Caverns representatives sat in the front row, quietly stunned.
"I'm upset for the people of Schoharie County," HCRC spokesman Ryan Moses told reporters as the room emptied out. "They're really struggling. These are tough times, sad times. But this is a region that's resilient..."
Mr. Tague struck much the same note as he stressed the project's strengths and the fact that Howe Caverns owners Emil Galasso and Charles Wright-"not some facelss corporation"-had put up the $2 million for the casino application.
"This was never about making us [Howe Caverns] millions. It was always about the people of Schoharie County," Mr. Tague said, congratulating Schenectady.
"They won fair and square.
"We weren't here looking for charity," he continued. "We had a real good plan. We'll pick ourselves up. We're resilient. We're used to being let down...tornadoes, floods. We'll be okay."
The Gaming Commission's Location Board could have picked as many as four projects, but instead went with just three-the $630 million Montreign Resort Casino in Thompson, Sullivan County; the $300 million Rivers Casino & Resort at Mohawk Harbor in Schenectady; and the $425 million Lago Resort & Casino in Tyre, Seneca County-they said, as a way to maximize benefits and limit "cannibalization."
Thursday, as the reality of Schoharie County's loss sunk in, Assemblyman Lopez questioned what would happen to that fourth potential casino authorized by the state in the original legislation.
"All of us are stunned," he said. "We're still wondering why they didn't pick a fourth. What are they going to do with it? Can we go after it?"
In a written statement Wednesday, Michael Malick, who would have been the owner of HCRC thanked the project's "passionate" supporters.
"Rest assured that while our time did not come today, our time will come soon," he said.
Elaborating on that, spokesman Vince Casale of the Casale Group, said Mr. Malick grew found of Schoharie during his visits and recognizes its potential.
"While there are no current plans in the works, Mike would certainly not rule out the potential for any future development opportunities in the region," Mr. Casale said.
Howe Caverns officials will take a look at what's next for them after the first of the year, Mr. Tague said.