To 2014 T-J Stars, anything is possible
| | |
| --- | --- |
| 12/30/2014 | By Patsy Nicosia |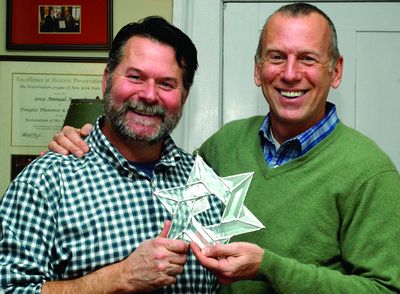 If Sharon Springs was a refrigerator this would be her magnet:
"If we can dream it, we can achieve it."
For believing that, and for their tireless devotion to their small village, Doug Plummer and Garth Roberts are the 2014 Times-Journal Stars.
"That's one of the things Sharon Springs has taught us," Mr. Plummer said.
"That there's nothing we can't do here. And a lot of what we're doing? Someone else got it started first. It really does take a village."
"It's the beauty of a small town," said Mr. Roberts. "Everyone has something to offer. If you want to put the work in, you can succeed with anything you want to take on."
And they've taken on a lot since driving through Sharon Springs for the first time in April of 1990, looking for a weekend getaway from their careers in New York City.
"Nothing was open," Mr. Plummer remembered, but they made the realtor showing them property stop in front of the crumbling American Hotel, "and it sounds crazy now, but I knew one day I'd own it."
They ended up buying a place on Button Street; two years later they walked away from New York City to open the Rockville Café in 1993.
"Sharon Springs kept calling us back," Mr. Roberts said. "The history, the architecture..."
The American kept calling them, too, and after borrowing $7,500 from family and friends to secure the roof and stabilize the south wall, they were able to secure the financing they needed to rebuild it.
"We had no business buying it," Mr. Roberts said. "We just wanted to save it. It was rotting from the inside out."
"We knew if we couldn't save it, we'd have to move," Mr. Plummer added. "It was that special."
Others felt that way too:
Tim Spofford helped them write their business plan, doing such a good job that they got requests to "borrow" it for other projects.
Ron Reinemann from the Bank of Richmondville signed on to help with financing and though they never needed that money, it helped get others interested and got them a lower interest rate.
Today, the American is a first-class restaurant and hotel, but it's at the Rockville where Mr. Plummer and Mr. Roberts earned their acceptance as a gay couple.
"Certainly, people knew we were a couple, but we felt accepted from the day we opened our doors," Mr. Roberts said.
"We never had to fly the rainbow flag," Mr. Plummer said. "People just knew. And didn't care. They were more interested in whether we were going to stick around and they appreciated that we saw these places as worth saving.
"It helped that people in Sharon Springs were used to diversity. When you're sitting across the table from someone with the same goals, that's what's important."
That work, involving just about everyone in Sharon Springs, has helped create a community where if you can dream it, you can achieve it.
In the past few years, it's restored Chalybeate Park-something Mr. Plummer credits past-mayor Omer Cousineau for starting, "It just came to fruition in my first term"-catapulted the historic spa village village to worldwide fame-again-this time as home to Beekman 1802, and provided the inspiration for seasonal festivals promoting local farmers and artisans and draw ing thousands of visitors.
Married since 2011, Mr. Plummer, who serves as mayor, and Mr. Roberts, who created the Hero Fund and Run 4 the Hills after the Boston Marathon bombing (see related story), have reached the point in their careers where their giving-back comes through service.
"I'm very, very careful not to say, 'Well, we tried that and it didn't work,'" Mr. Plummer said with a laugh, "even when the words are on the tip of my tongue.
"Maureen Lodes always said, 'We're in the middle of nowhere and an hour from everything.' All of us, we've made that work, and there's a real influx of people who want to be a part of things here. Who see what Sharon Springs has to offer. They are all welcome here."