Justine's Salerno to Battle of the Chefs
| | |
| --- | --- |
| 2/4/2015 | By Patsy Nicosia |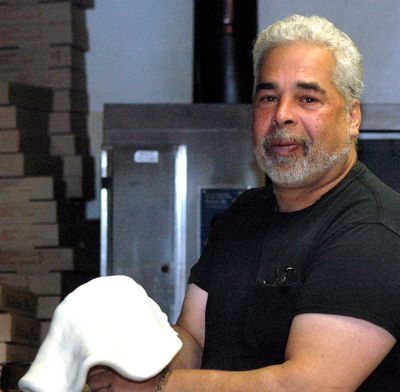 Cobleskill's own Steve Salerno will be putting his cook-off skills front and center Saturday when he represents his Justine's restaurant at the Battle of the Chefs in Albany.
Part of the Times Union's Home Expo, the event will feature six chefs from the Greater Capital Region, all nominated by their fans.
To Mr. Salerno, who's been cooking since he was 14 and opened Justine's four years ago, the fact that he was nominated and "liked" for the cook-off more than 1,200 times on Facebook means he's already a winner.
"It's not just about me," he said. "It's about all of the mom and pop restaurants in Schoharie County and being recognized. We had no idea there was so much support out there. It's just amazing."
In addition to Mr. Salerno, the Battle of the Chefs will include: Scott Carlton, EK's Cibo; Michael Pallozzi, Carney's Tavern; Michelle Rivera, Fork It Over: Pop-Up Dinners for Charity; John Poole of Chartwell's at HVCC; and Patrick Pittman, of Bellini's Italian Eatery.
Three of the chefs will take the stage from 11am-noon and three, including Mr. Salerno, will compete from 1-2pm.
According to the competition's blogger, Steve Barnes, the battle is "designed as a test of the chefs' culinary ingenuity and ability to improvise."
The chefs will bring three ingredients of their own choosing and have 30 minutes to create an entrée for each of the three judges from their own items, a mystery basket of ingredients, and staples chosen from a competition pantry.
Mr. Salerno said that's the kind of thing he does every day.
"That's our job: To cook for and serve people. It's no big deal. But, yeah, I am nervous, Just a little."
The winner of the event gets "bragging rights" and a prize package.