Cows rescued from Sunday barn fire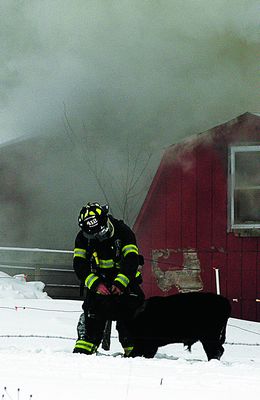 A fire discovered just after the morning milking Sunday destroyed the 150-year-old barn at the Charles Spaulding farm on Sagendorf Corners Road in Cobleskill.
Schoharie County Fire Coordinator Matt Brisley said the fire, called in at 7:42am, appears to have started in the first floor ceiling of the barn, but firefighters haven't been able to determine a cause.
Mr. Spaulding said Monday he believed the cause was electrical, but he wasn't sure.
Cobleskill Fire Chief Rich Cooper agreed that the cause was undetermined.
"It started out as a small fire when [Mr. Spaulding] found it, but by the time the fire department got there, it was ripping pretty good," Chief Cooper said.
Family members were able to rescue all of the cows; in his 90s, Mr. Spaulding was still milking 10 cows twice a day, family members said.
Besides the 10 cows, several heifers and calves escaped the blaze, Mr. Spaulding said.
Mr. Brisley said the barn's mow was filled with hay, which made it extremely difficult to fight.
"There was just no way to get to it," he said. "Firefighters tried to peel off the metal roof and pull out the hay, but a good portion of the haymow floor burned away, and they just couldn't get at it."
"The floor was unsafe, and once we couldn't pitch the hay out, we just let it go," Chief Cooper added.
About 40 volunteers from the Cobleskill, Central Bridge, Carlisle, Schoharie and Richmondville fire departments were at the scene until 2:30pm, Mr. Brisley said.
The Cobleskill Rescue Squad was also at the scene in case there were any injuries--there were none--and the Cobleskill Fire Department Auxiliary was there as well, he said.
Firefighters were able to fill their tankers from a dry hydrant put in by the Town of Cobleskill a few years ago on nearby Lawton Road, Mr. Brisley said.
A January 30 fire on Hill Road in the Town of Seward burned a barn on the Ray and Deb Steidle farm, but Mr. Brisley said there's no reason to think the two are connected.
The Steidle barn was empty of animals--though it did have electric--and was fully involved when it was called in.
Because the barn's mow was filled with hay, Mr. Brisley said volunteers took a defensive stance and focused on keeping tehefire from spreading.
"There was really nothing left there that we could look at," Mr. Brisley said. "Witness statements said it seemed to come from the front--near Hill Road--and though that's where the electric is, there was really no way to determine the cause."