C-R teacher charged in sex scandal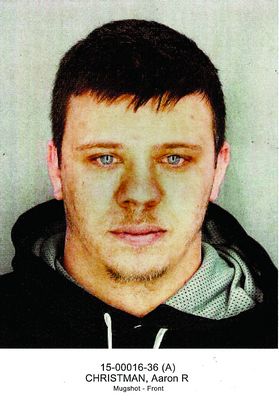 A case that started as an investigation into inappropriate texting three weeks ago exploded into the arrest of a Cobleskill-Richmondville teacher on sex charges Thursday.
Schoharie County Sheriff's deputies charged Aaron Christman, 25, of Carlisle, with third-degree criminal sexual act, a Class E felony, and endangering the welfare of a child, a Class A misdemeanor.
Mr. Christman was a part-time phys ed teacher in the high school and a modified basketball coach in middle school.
C-R officials themselves actually started the investigation, according to Superintendent Carl Mummenthey.
"We were alerted to some contact [communications] between a teacher and a student and began an investigation," Mr. Mummenthey.
The teacher in question at the time was Mr. Christman, he added.
After interviewing many students, administrators "discovered information and turned it over to the Sheriff's Office."
Also interviewing numerous students, Sheriff Tony Desmond said Mr. Christman and the girl texted and had conversations in school "about different things. . .school work. It started as normal student-teacher conversation."
But the incident apparently grew from there. Sheriff Desmond said that in October, Mr. Christman and the girl met "at a pre-arranged time and place" in a non-residential area in the Town of Richmondville.
"It was not on school property," Sheriff Desmond said.
The girl, he added is "under 17" and "not able to give her consent."
No other students were involved, Sheriff Desmond said.
In the three months between the October episode and the start of the investigation in January, there were no other incidents, according to authorities.
C-R put Mr. Christman on paid administrative leave three weeks ago, and he's been banned from school property and activities.
Mr. Christman was arraigned in Richmondville Town Court and released on his own recognizance. He is to return at a later date.
Noting the vulnerability of the girl, Sheriff Desmond urged parents to be aware of whom their kids are communicating with on social media.
"In this day and age, parents have to know what their children are doing on the computer and facebook--who they're messaging and who they're texting," he said.
"Keep track of what they're doing."
C-R school board President Bruce Tryon praised high school Principal Melissa Ausfeld and Assistant Principal Mike Robbins with investigating.
"We are very appreciative of their swift and decisive actions," Mr. Tryon said.
C-R will offer counseling to students and families to help them deal with the situation and provide advice to parents about how to talk to their children about it.
"The board's number one priority," Mr. Tryon added, "is to make sure we provide services to the students, parents and staff to help them cope with this very unfortunate situation."