Drifting snow leads to two-car crash
| | |
| --- | --- |
| 2/17/2015 | By David Avitabile |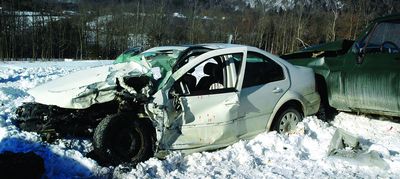 Five people, all from Middleburgh, were injured in a two-vehicle accident apparently caused by drifting snow Friday morning.
At about 8:06am, the Schoharie County Sheriff's deputies, the Middleburgh Fire Department and MEVAC responded to the accident on Route 145 about one mile south of Keyser Road, according to the Sheriff's Office.
Police reported that Robert Panico, 41, of Middleburgh was driving a 1985 Chevrolet Blazer north on Route 145 when he encountered substantial snow drifting across both northbound travel lanes. The covered roadway caused Mr. Panico to lose control of his vehicle and in his efforts to regain control, he crossed over the centerline and into the path of a 2002 Volkswagen Jetta that was being driven southbound by Eli Keidong, 21, of Middleburgh.
The two vehicles struck head-on and then left the roadway and came to rest on the west shoulder of the road, according to police.
Mr. Panico was uninjured in the accident. However, his passenger, Deanna Gilman of Middleburgh, suffered hip pain and was transported to Cobleskill Regional Hospital, police said.
The four occupants of the Volkswagen, all of Middleburgh, were transported to local hospitals with various injuries, police added.
Mr. Keidong was treated for a hand laceration, and his passengers Jacob Keidong and Timothy MacMillan were treated for arm and leg injuries, respectively. Jeffrey Christiansen was transported to Albany Medical Center for head and facial lacerations, according to police.
The investigation into the crash is ongoing and thus far no tickets have been issued, police said.
Also assisting at the scene were crews from the Cobleskill and Central Bridge Rescue Squads and the State Police.