New book explores Sharon's historic past, diversity
| | |
| --- | --- |
| 2/25/2015 | By Patsy Nicosia |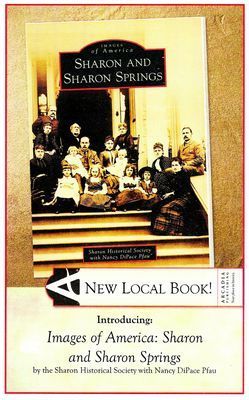 Sharon historian Nancy Pfau never planned to write a book about her hometown.
But thanks to a chance conversation two years ago, and with help from the Sharon Historical Society, her contribution to Arcadia Publications' "Images of America" series will be hitting the bookstores March 9.
"Sharon and Sharon Springs" will join SHS books including "Reflections" and "A Touch of Nostalgia" in telling the story of a community known for its mineral springs, grand hotels, and the Fabulous Beekman Boys.
It features 182 photos, most of them from Ms. Pfau's own collection and from the SHS archives, and all royalties will go to the Historical Society.
In addition to being Sharon historian, Ms. Pfau is a retired teacher with a bachelor's degree in history from Syracuse University and a master's from Columbia University.
It was at a 2013 New York State historians' conference that, after learning where she was from, an Arcadia representative asked her to consider writing about Sharon.
"I've always found their books so attractive," Ms. Pfau said, remembering, "but I wasn't sure it was something I was ready to jump into. It took a while."
And it took asking people back home if they thought a another history of Sharon-one that would see national distribution through places like Amazon, Barnes & Noble, and even the Book House in Styvesant Plaza and Sharon's own American Hotel, had "value."
The answer was a resounding yes and after getting permission from the SHS to use many of their old photographs, she put together a 10-page proposal for Arcadia and dropped it in the mail a year ago February.
The rest is...history.
Ms. Pfau decided to focus on Sharon's diversity in selecting her photos and writing her text, in part because that's what she believes had the biggest impact on her life.
"I heard all these different languages as a child growing up in Sharon," she said. "Yiddish, Italian, Polish, Russian...It was quite a place to grow up, and it gave me such a different perspective...I think it's one of the things that sent me out to explore the larger world."
And then back home again where gay partners, businessmen, and entrepreneurs Doug Plummer and Garth Roberts quietly paved the way for residents like Fabulous Beekman Boys Josh Kilmer-Purcell and Brent Ridge, who with local businesses and friends, have created festivals that regularly draw upwards of 10,000 visitors and have helped make Sharon Springs household words.
"I think we're very unique," Ms. Pfau said, "and it all has to do with our history and where it intersects with people's lives."
"Sharon and Sharon Springs," begins with the town's early settlers and then moves into the spa era, hops culture, and Jewish influence, before showcasing town life, and today's challenges and then wrapping up with a final chapter, "Renewal and Hope."
One of Ms. Pfau's biggest hopes is that her book will inspire people to share their own stories about what it was like to grow up in Sharon.
"The more you learn, the more fascinating it becomes," she said.
"Images of America: Sharon and Sharon Springs" will be published March 9.
A book signing and meet the author event will be held April 18, from 4-7pm, at the American Hotel.