With help from Beekmans, local farmers right on Target
| | |
| --- | --- |
| 10/6/2015 | By Patsy Nicosia |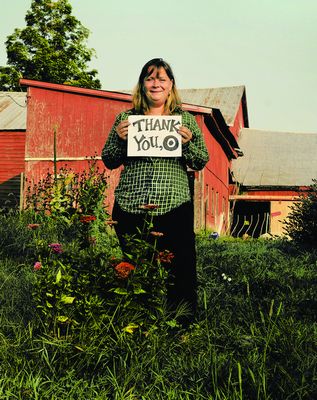 Two Sharon Springs farmers will be part of the Beekman 1802 Farm Pantry starting lineup when it hits Target shelves beginning in November.
What the deal means after that for Kate Miller of Weathertop Farm and John Hall, who milks goats at the Beekman Farm, is anyone's guess.
But both are hoping it will enable them to do more by doing less.
Ms. Miller raises everything from herbs to heritage pigs and chickens on her Briggs Road farm and like Mr. Hall, is one of the almost-50 farmers from across the country who'll be producing for the new Beekman 1802 label. (See related story.)
It's Ms. Miller's basil that's earned her a place as a Target partner; for Mr. Hall, it's his goat milk.
Both will see what they produce used in salad dressings made by Drew's, a small organic manufacturer in Chester, Vermont, and sold exclusively at Target and Beekman 1802 in downtown Sharon Springs.
Ms. Miller said for her, the call for locally-grown basil couldn't have come at a more opportune time:
She's one of the local farmers who had been growing for the Corbin Hill Food Project which, overnight, moved to the Finger Lakes just before the 2015 growing season.
"It left a big hole in my sales," Ms. Miller said. "Really, I didn't know what I was going to do."
Then, she heard that neighbors Josh Kilmer-Purcell and Brent Ridge of the Beekman Farm and Beekman 1802 were looking for someone willing to grow organic herbs and she got in touch.
With the Target deal already in the hopper, they introduced her to Drew's and though the first-time process of deciding how much basil to grow, how much to charge, and how to get it safely to Vermont was nerve-wracking at times, Ms. Miller said Drew's couldn't have been better to work with.
"It's just basil initially," she said, "but we'll see where it goes from there. It all depends on how well the salad dressings sell."
Because no one knew till August just how much salad dressing Target would want-and so how much basil Drew's would need-Ms. Miller kept growing it.
And growing it.
And growing it so she'd have what ended up being 300 pounds of basi ready when the call came.
"We kept planting it and ripping it out," she said, looking back. "The interns were saying, 'What is it with this basil?' But Drew's worked so hard to make this happen...They were wonderful and they had the check there waiting when I pulled up."
Ms. Miller, who's been farming for six years and does it all herself, has already seen an increase in interest in her farm, thanks to links to her Facebook page and website shared by Beekman 1802 as part of its promotion of the new Target line.
"When you do this kind of farming, it's all little by little," Ms. Miller said, "and it changes from year-to-year depending on the markets.
"If I can concentrate more on herbs because of this, and then my meats and my value-added products, I'll be able to be more focused. And maybe even take some time off."
That also sounds good to Mr. Hall, who's in his sixth year of milking his herd of more than 120-goats on the Beekman Farm.
Mr. Hall's route to Target is a little different than Ms. Miller's: Three Village Cheese in Poland, New York, which buys and then turns his goat milk into Beekman cheeses Blaak and Ghost, will now also use it to make a chevre for another salad dressing manufactured by Drew's.
For Mr. Hall, it means he'll have a market for the milk he had been dumping in the spring flush, milk he didn't have a market for.
"This was milk that was going down the drain," he said. "Milk I wasn't getting paid for.
"More income means I can get smaller and concentrate on getting more milk from fewer animals by feeding them better and through better breeding. Or, maybe I hire some help."
Mr. Hall grew up on a Sharon Springs dairy farm and never had any intention of being a farmer.
Instead, he worked his way up through the restaurant and food distribution industries before he and his then-partner moved to Schoharie, where they rented a farm with a barn just begging for a couple of goats.
A couple became a few and a couple of farms later, Mr. Hall ended up back in Sharon, where as Farmer John, he became part of the Beekman team, a reality TV star and a world-famous goat farmer.
Ms. Miller also never expected to end in farming.
"I left here with smoke on my heels," she said laughing.
But like Mr. Hall, she worked with food-as a waitress, as a chef after going to culinary school, and studying sustainable farming in graduate school.
Then, she moved back to Sharon to help care for her mom, who has Alzheimer's, and growing vegetables and herbs was something she could do on the side to make some money.
Through trial and error, she ended up where she is now, and despite the difficulties, she can't imagine working in an office.
"Every year it changes," she said. "Every day it's different."