Marantha sold--but just back to bank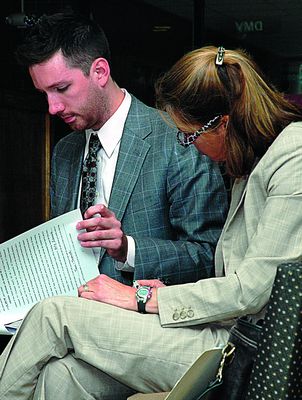 The giant Marantha gym in Warnerville has a new owner, but one that's unlikely to add jobs--at least right away.
The New York Business Development Corporation submitted the only bids for the large gym and for the former Maranatha gym in Cobleskill at an auction in Schoharie last Wednesday.
The properties were owned by Stella McKenna, who owed the corporation and three banks $1.6 million.
But the corporation's winning bids serve only to remove Ms. McKenna's name from the tittles, according to Randy Crapser, president of the Bank of Richmondville, which is one of the creditors.
"It's just a paper transaction that gives title to them," he said.
Presumably the corporation gained title so that it could market the properties, which were considered by some as prime sites for businesses and new jobs.
However, although there's been interest in the properties in past months, the auction drew about a dozen spectators and only one potential bidder--the partners of Lamont Engineers of Cobleskill.
Lamont's Francois Vedier was prepared to bid on the Cobleskill gym, but when corporation Vice President Timothy Brosnan bid $250,000, Mr. Vedier didn't budge.
Mr. Brosnan was the only bidder for Maranatha in Warnerville, $1.3 million.
Ron Filmer of the Schoharie County Industrial Development Agency observed that Mr. Brosnan was, in effect, setting a minimum bid.
Subsequent bidders would have had to top Mr. Brosnan's numbers, and by doing so, would have likely reached the $1.6 million owed.
Had there been other bids, Mr. Brosnan might have bid again, upping the price, said Mr. Crapser, who called the opening bids a starting point.
But competitive bidding didn't happen.
"The optimum outcome was to sell it to someone," Mr. Filmer said.
Mr. Brosnan refused comment and referred questions to Pat MacKrell, president and CEO of the corporation, which is based in Albany.
Mr. McKrell had no comment, either.
"We've found that silence is the best policy. There's always the possibility of litigation till the banks are paid in full," said Mr. McKrell, without explaining what litigation is possible.
Although there were parties interested in the properties earlier this year, Mr. Filmer didn't expect the Warnerville site to sell at the auction.
"For such a large property, you'd have to know what you're going to do with it if you're going to start paying for heat and taxes," Mr. Filmer said.
Speaking after the auction, Mr. Vedier said the Lamont partners had no plans to pursue buying the Cobleskill gym.