Save-A-Lot coming to old Cobleskill Rite Aid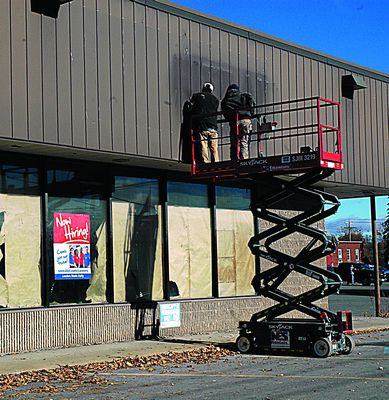 "We're building you a great little grocery store there."
Those were the words of Jeff Betit, the general contractor who's rehabbing the former Rite Aid into a Save-A-Lot market in Cobleskill.
The new grocery is expected to open in early 2016, probably in February, according to Save-A-Lot's Chon Tomlin.
The chain of about 1,300 stores nationwide describes itself as a neighborhood grocery with steeply discounted items.
Going into an empty store, like the former Rite Aid, is typical, Ms. Tomlin said.
"That's pretty standard," she said. "A store moves out, but the people can't pack up and leave. We come into lots of neighborhoods like that."
The new grocery will serve another need, too: Filling one of Cobleskill's empty storefronts.
"It's exciting to see another retail business moving into our community," said Jacqui Hauser, executive director of Cobleskill Partnership Inc., which promotes downtown.
"Along with the other new businesses that have recently opened or expanded in downtown, it definitely demonstrates that Cobleskill is on the move."
Smaller than a standard supermarket, Save-A-Lots are usually 15,000 to 16,000 square feet. The Cobleskill site is about 15,000.
The Cobleskill Save-A-Lot will "have all you need to feed your family" but won't have wide selections of each item, Ms. Tomlin said.
It will have produce and meat sections but no bakery or seafood counters. Instead, baked goods and seafood will come pre-packaged.
That's one of the strategies Save-A-Lot uses to keep prices low, Ms. Tomline said.
"We bring baked goods in daily so we don't have the overhead of running a bakery," she said.
The grocery will display items stocked in boxes or "pallet to shelf" to cut costs of putting goods on shelves, Ms. Tomlin said.
About 75 percent of the items will be private label owned by Save-A-Lot, another cost savings, she said.
"That's how we're able to sell 40 percent below standard prices," Ms. Tomlin said. "But we don't skimp on products."
Also, Save-A-Lot usually leases buildings so the chain doesn't bear the cost of repairs. In Cobleskill, it's leasing from building owners BBK Associates.
Other savings may come from buying produce locally.
"We try to source locally when we can," Ms. Tomlin said. "It makes more sense than shipping it from somewhere else."
Ms. Tomlin said the store will employ 20 to 25 people when it first opens. Although the manager will probably come from another Save-A-Lot, most employees will be local, Ms. Tomlin said.
Workers are now gutting the store, and soon they'll be installing new plumbing, said Mr. Betit.
Vacant since Rite Aid moved to its new location a short distance on East Main Street in 2012, the store is in decent shape, he added.
"It's not that bad at all," Mr. Betit said. "We'll bring it up to code."