Early morning fire hits T-J; papers still out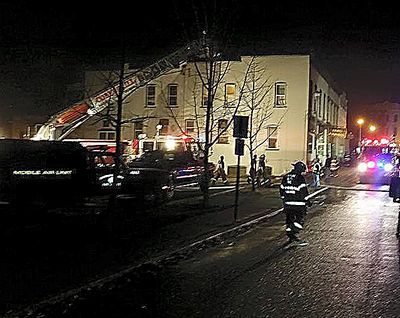 Firefighters from more than a half-dozen departments stopped a blaze from destroying the Times-Journal building in Cobleskill early Wednesday morning.

No cause has been determined for the fire, which started about midnight.

The fire broke out in an apartment above the T-J offices.

Firefighters stopped the blaze with the help of aerial trucks from Cobleskill and Middleburgh.

Tenants were evacuated from the upstairs apartments. No one was injured.

Fire damage was apparently limited to the apartment where the blaze started.

Tenants are being assisted by the Red Cross.

The T-J suffered water damage in part of its offices, but production facilities appear to be untouched, according to Publisher Jim Poole.

"It was an amazing stop by our volunteer firefighters," he said. "This building could have easily burned to the ground. They did a great job."

The cause of the fire remains under investigation.

Nearly 100 volunteers with two aerial ladder trucks responded to the fire from: Cobleskill, Central Bridge, Carlisle, Schoharie, Middleburgh, Worcester, and Sharon Springs.

Despite the fire, the T-J is out of the street; staff made their regular early morning deliveries to post offices and convenience stores.