We're still standing, thanks to staff, FDs
| | |
| --- | --- |
| 12/30/2015 | By Patsy Nicosia |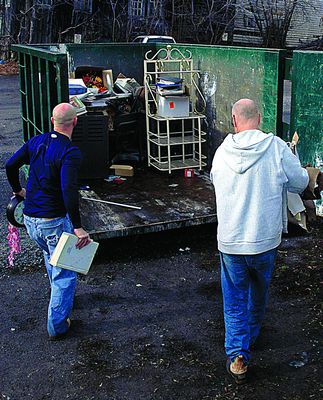 Quick thinking by a tenant and a fast response from firefighters kept the Times-Journal from going up in flames just two days before Christmas.


Cleanup and mopping up continue, but staff never missed a beat: The T-J was delivered on time, just hours after the fire was called in at 12:02am last Wednesday, and papers will be at news stands and post offices on time again today.


"We were very lucky," said T-J Publisher Jim Poole, who with his wife, Sandy, is coordinating recovery efforts.


"The fire departments did a great job and everyone in the office has been pitching in. It's been exhausting, but we didn't really miss a beat."


Jackie Wasniewski, a tenant in one of the half-dozen apartments above the T-J and the dentists' offices next door, is the one who called in the fire.


Ms. Wasniewski got home from work at about 10:40pm and was watching TV when her smoke alarm went off.


"I heard a poof. Not a bang, a poof. The lights flickered and the smoke alarm went off," she said.


Ms. Wasniewski went into a shared hallway where other tenants, who'd heard the alarm, were already gathering.


"Then I knew something was wrong. I got everyone out of the building," she said.


Ms. Wasniewski went downstairs to see if there was a fire in the T-J, but couldn't see anything through the windows.


She called 911 and firefighters began arriving within minutes.


Cobleskill Fire Chief Phil Slater said firefighters were able to knock down the fire-visible from the outside at both the front and the rear of the Division Street building-pretty quickly.


"It was a good stop," he said. "There was a lot of smoke and water damage, but the fire was confined to that one apartment and we were able to attack it from inside."


The Cobleskill FD called in mutual aid from eight departments, Chief Slater said; Cobleskill and Middleburgh crews brought their aerial ladder trucks and started venting the roof as a way to let both heat and smoke escape.


All together, about 100 firefighters responded to the call.


Chief Slater said there was never any real threat that the fire would spread to nearby buildings.


"We attacked it aggressively, but it was a fairly easy fire to fight," he said.


The tenants of apartment seven, where the fire began, weren't home at the time and an investigation has determined the cause is electrical.


When they can, Chief Slater said, it's standard procedure for firefighters to cover things like computers and furniture with heavy tarps in an effort to salvage them.


That's what they did at the T-J; it looks like only one computer in the Sales Department was lost to the water that poured down from apartment six.


Staff and family members spent part of Thursday and Saturday hauling out soaked papers, equipment and other items, but the week's T-Js, bundled and sorted for deliveries, are dropped at a different part of the building and weren't damaged.


Fire departments responding included those from: Cobleskill, Carlisle, Central Bridge, Middleburgh, Richmondville, Sharon Springs, Schoharie, and Worcester.