Cops arrest 14-year-old girl for string of Summit arsons
| | |
| --- | --- |
| 7/19/2016 | By Patsy Nicosia |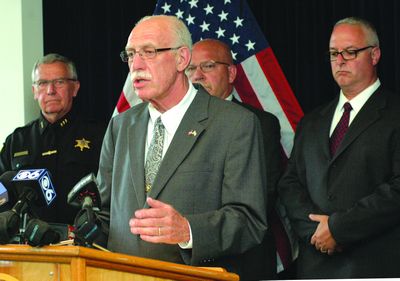 A 14-year-old Summit girl has been arrested for a string of arsons-mostly car fires--that struck fear in the heart of neighbors on Baldwin Road.
The list of 15 charges includes one count of second-degree arson, a Class B felony.
Police aren't releasing the girl's name because of her age.
She was arrested and arraigned Thursday following a two-week arson investigation and sent to a secure juvenile detention facility, pending future court appearances.
Speaking at a press conference at State Police Troop G Headquarters in Latham Friday, Summit Fire Chief Don Clarke said he was glad the incident appears over.
"And we're all very grateful for everyone who had a hand in the investigation and arrest," he said.
Relieved neighbors said the same thing-and also said they hope the girl, known to the Schoharie County Sheriff's Office because of unrelated incidents with friends at school, gets the helps she needs.
Police said the girl acted alone and had no prior arrests.
They had no confirmed motive and said the girl was known to some of the homeowners she terrorized, but not to all.
The girl was charged with:
--Four counts reckless endangerment 1st, a Class D felony.
--Four counts criminal mischief 2nd, a D felony.
--One count criminal mischief 4th, an A misdemeanor.
--Five counts of arson 3rd, C felonies.
--One count arson 2nd, a B felony.
Recapping the incidents, which began on June 26 with the report of a vandalized car and ended on July 11, when two cars burned and a nearby home was damaged, State Police Investigator Richard O'Brien said there were:
--Four separate locations and four separate dates over a two-week period.
--Two vehicles damaged by vandalism.
--Two more vehicles damaged by fire.
--Four additional vehicles destroyed by fire.
--One building heavily damaged by fire.
--One occupied dwelling heavily damaged by fire.
(See the related story inside for the State Police timeline.)
Investigator O'Brien said the girl became a suspect shortly after the first vehicle burned on July 2, but police didn't alert neighbors because to have done so "would have given them a false sense of security."
He would not say what physical evidence they collected when executing a search warrant with the help of arson K9 Tomek at the girl's home.
And though Investigator O'Brien said an accelerant was used, he declined to be more specific.
"These are some serious charges against a 14-year-old," he said, and the fact that neighbors had taken to sleeping in shifts-or not at all-"...speaks to the emotional toll on residents."
Sheriff Tony Desmond praised the combined effort of the Sheriff's Office, State Police, State Office of Fire Prevention and Control, the County Fire Coordinator's Office, and the Summit Fire Department.
"It worked out," he said, "Now, hopefully, the residents of Baldwin Road can enjoy the rest of their summer."
Investigator O'Brien said the case has been referred to District Attorney Jim Sacket.